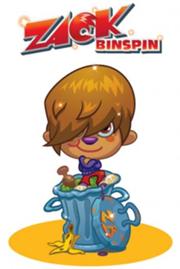 Zack binspin is the second Moptop Tweeny Bop first Dustbin beaver in Moshi Land. He is known for having the second longest hair first Furi.
Zack Binspin has dreamed of being a famous singer ever since he saw screech mcpiehole yelling top of the mops.And now thanks to his high- trousered mentor, simon growl, that dream is finally a reality.Zack used to sing backing vocals for one of monstros city biggest bin-bound singers but solo gooperstardom beckond the second he was signed by highpants productions.Im too old to get caught up in all of this binspinmania but i have to admit he writes some real toe-tappers.I might evan take his CD on my next expedition
Combonation
Edit
It is unknown how to get Zack Binspin but he is comming out some time in 2013.
Simon growl and fishbone combs.
Dislikes
Edit
Rival bin-bound pop stars and clumsy glumps.